RTL2832U spectrum analyzer – part 2
In previous part i wrote about LifeViev DVB-T usb stick based on RTL2832U and Fitipower FC0013 tuner.
In spite of information on http://sdr.osmocom.org/trac/wiki/rtl-sdr site, FC0013 in this stick doesn't go up to 1.1GHz :-(. In fact, from my experience it could do up to somewhere little above 900MHz.
New stick with R820T tuner
As I want to measure also my FPV equipment, with TX running at 1.2GHz, I bought another DVB-T usb stick based on new tuner: Rafael Micro R820T.
It's very popular and cheap on eBay (about $10), but it haven't particular name.
That's my 'no name' stick: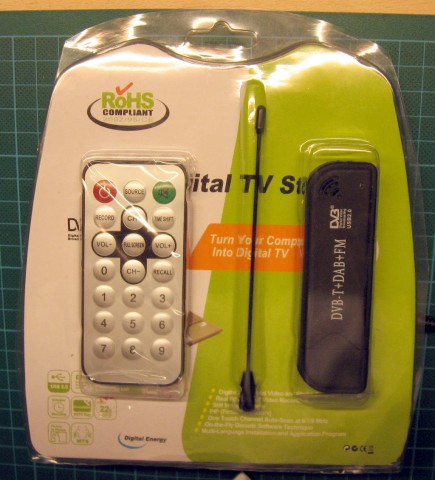 And of course inside: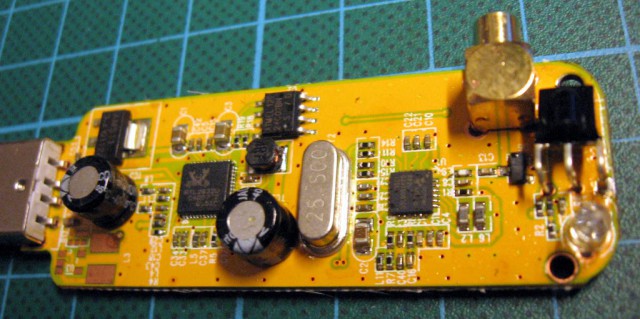 As I wrote above, Lifeview with FC0013 can't measure my video TX at 1.010GHz (but this should be within it's range):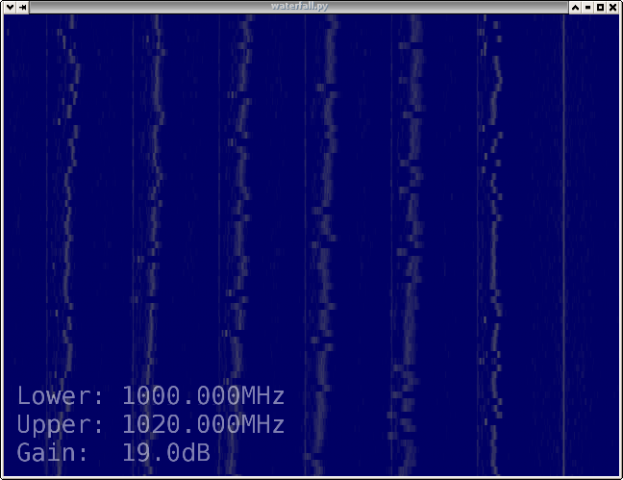 But the same on dvb-t stick with R820T looks fine:

SDR#
In previous part I promised to make some effort and test also SDR# (aka SDRsharp) software.
Compiling and installing Mono appeared quite easy.
Installing PortAudio library also went flawlessly.
In howto there are described 2 ways of installing SDR#: using MonoDevelop and from command line. First option was a 'dependency disaster' – so I gave up. Then I tried second option. It didn't work either 🙁
After some experiments, reading manuals it turned out that default option tried to compile native code for my 64bit system and this part of SDR# is simply broken.
When I forced to compile to 32bit binary (luckily I have multilib installed), it finished without error.
Magic compile command:
xbuild /t:Rebuild /p:Configuration=Release /p:Platform=x86 SDRSharp.sln
Results: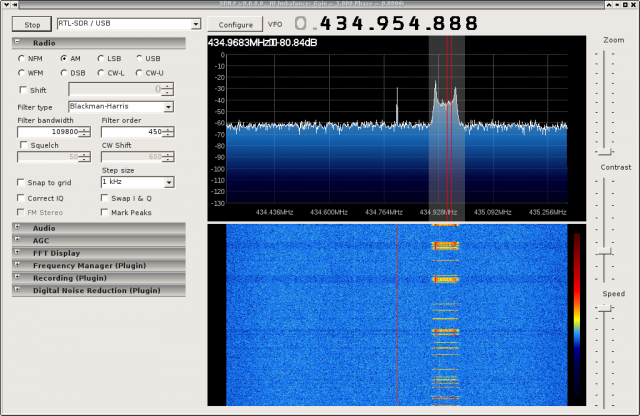 After some clicking, double clicking, dragging etc. I could also share my impressions about SDR#.
Pros:
it looks cute
everything is clickable, frequency is easy changeable just by mouse roll – typical Windows application 🙂
it could demodulate on the fly radio transmissions – just point at spike in histogram, chose modulation type (am, fm, ssb and more), drag mouse to set bandwidth and you could hear what's in the air
shows spectrum and waterfall simultaneously
Cons:
require a lot of cpu, my 2×1.6GHz C2D wasn't fast enough for smooth running:-(
shown bandwidth is limited by sampling rate, so viewed window is maximum 2MHz wide 🙁
not all sampling rates works. 2048kS/s works, but setting rate at maximum 2.4MS/s ends with error 'paBadIODeviceCombination'
when cpu is overloaded, some samples are lost and it dosn't show what's really is going on (on above picture it should be almost continous line), so it's unreliabe for me
It looks like for listening to the radio it's quite good and powerful tool. But as measuring and testing tool, it's so heavy and limited.
OrangeRx OpenLRS
Of course I couldn't resist to check how my 'just arrived' OrangeRx OpenLRS modules work 🙂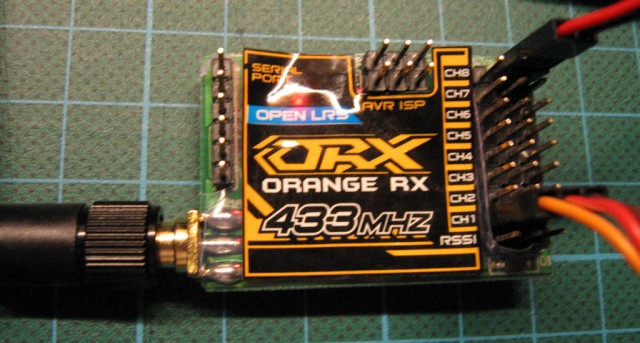 I bought 2 receivers as each one could also act as transmitter – there should be just different firmware flashed into it.
I downloaded OpenLSRng open firmware, changed hardware rx and tx to 3 for OrangeRx, compiled 2 versions (one for rx, and second for rx), and uploaded using simple USBASP interface (it must support 3.3V!).
OpenLRS use frequency hopping to be more resistant to interferences. And it clearly shows in following screenshot from rtlsdr-watefall: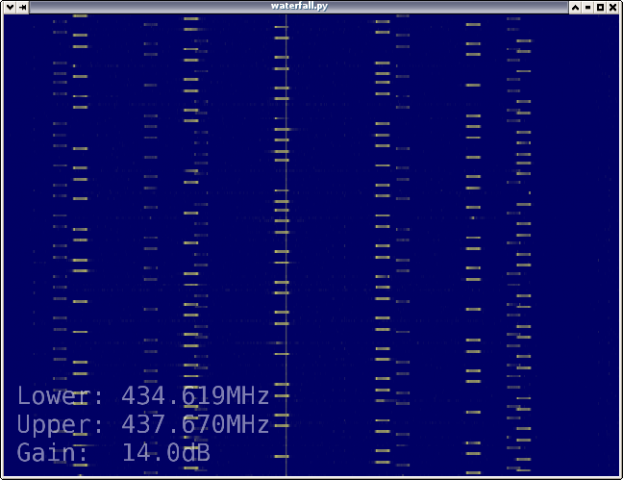 'Ghosts' on this screenshot are most probably because of tuner clipping. Measurements were done without antenna connected to dvb-t stick, but on quite large gain, so 100mW transmitter could be easily a reason for it.
That's all for now 🙂