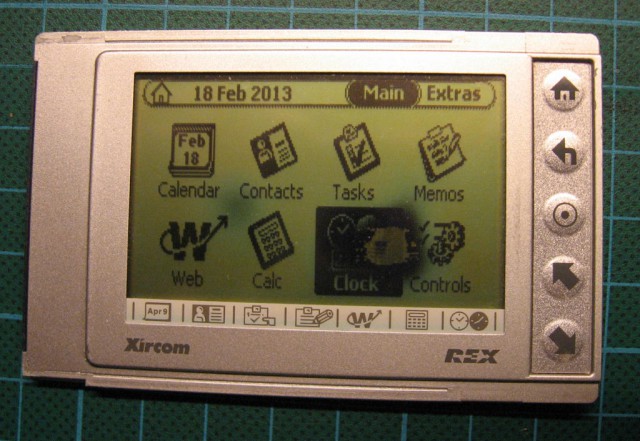 Somewhere in 2001 year I was hooked by small PDA with touch screen: Xircom REX 6000.
There was also very broad community with active developers around this device. Addons, applications, hints and hacks were popping around 🙂
This was quite expensive device, but also very unique: small, PCCARD size PDA with touch screen, permanent memory (flash), many useful bundled applications (contacts, calendar, to do list, wml browser), and possibility to sync that data between computer. More, there was also dedicated portal rex.net containing news, weather forecasts and more, which could act as sync source for REX, so you could download this info into PDA and read it later offline. Soon, some applications appeared to download very custom content (e-books, timetables, memos etc) using hack for this feature. Everyone was happy using this device 🙂
And then Intel appeared, seized Xircom and announced that best feature of REX 6000, rex.net portal will be shut down in month or two.
There were not too much time to do something with it. Because I was also big fan of this device (I owned two), I've had my own server and I was familiar with all http/cgi stuff, I started to do reverse engineering of whole sync protocol with portal. It wasn't easy but after about month I suceeded to make basic site working as replacement for original rex.net. Month of hard full-time work was possible because … I broke my collarbone and I had to stay at home 🙂
It was also very handy that sync application (only for Windows) had url of sync site stored in Windows registry, so replacing it was very easy.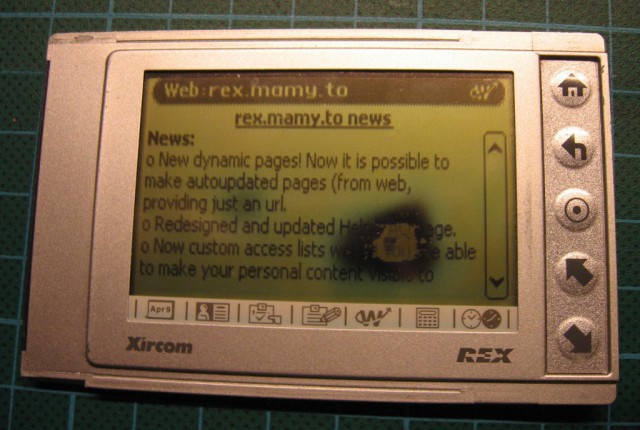 And that way rex.mamy.to was born 🙂
It was my first 'community' project:-) Because I was unable to deliver similar data to original rex.net site, I decided to allow portal users to define urls for grabbing content. With some basic filtering (skipping not important parts of text, strip and interpret html tags) everyone could prepare 'tailor made' dynamic content (updated twice a day). There was also possibility to define 'static' content, so everyone could prepare 'pages' with e-books, manuals and so on. And of course, every content could be private, public or shared only with specific list of other users – and most of it were public.
As for today, more than 4000 custom 'pages' was created on this site by more than 3000 users from all of the world, most of it in first two years of running this site.
In Facebook era this numbers are not impressive, but these days it was quite a lot.
After rex.net shutdown, Intel even mentioned on its site that rex.mamy.to exists as community replacement for discontinued service. 🙂
Right now, after about 12 years of providing uninterrupted service, it's time to end this chapter. I run it as long as someone was using it and as long as my very old software worked without modification. But last year there were only 3 people logged in (two were syncing REX!). I'm also in the middle of migration of services from old server to new one, and after migration there is almost impossible that 12 years old compiled cgi (using libraries for Mysql 3.x) still will work.
So, this is end of rex.mamy.to, sorry.